Hose End Sprayer
Hose end sprayers are great for using around the home and garden for various spraying needs. We carry Hudsong, Gilmour, Solo, and Howard Berger brand hose end sprayers.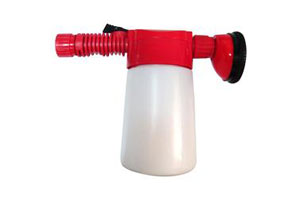 Howard Berger PHSP1 Hose End Sprayer
$8.99

A70836
Hose End Sprayer
Hose end sprayers have a multitude of uses, they can be used for water soluble fertlizer, insecticides, plant foods, and more. We have several hose end sprayers to choose from. Our brands consist of Solo, Gilmour, Hudson, and Howard Berger hose end sprayer.
Pump Sprayers



Sprayer Parts

Lawn and Garden Sprayers

Deck Sprayers

Backpack Sprayers

Chemical Sprayers

Commercial Sprayers

Spray Bottles




Pressure Washer Parts



Pressure Washer Nozzles

Pressure Washer Wand

Pressure Washer Hose

Karcher Pressure Washer Parts

Wagner Paint Sprayer Parts



Paint Sprayer Tips

Airless Paint Sprayer Hoses

Paint Sprayer Guns

Wagner Paint Sprayer Repair Kits

Solo



Solo Backpack Sprayers

Solo Hand Sprayers

Solo Portable Sprayers

Solo Sprayer Parts

Chapin



Chapin Backpack Sprayers

Chapin Hand Sprayers

Chapin Portable Sprayers

Chapin Sprayer Parts

Gilmour



Gilmour Hand Sprayers

Gilmour Sprayer Parts

Howard Berger



Howard Berger Portable Sprayers

Howard Berger Hand Sprayers

Landscapers Select



Landscapers Select Sprayers

Safety Equipment



Hose End Sprayers

Disposable Coveralls

Respirators

Safety Gloves

Safety Goggles


Our Mailing Address:
Sprayer Outlet
1035 Sylvatus Highway
Hillsville, VA 24343