Solo Portable Sprayers
Solo Portable Sprayers feature a comfortable, rugged, ergonomically designed carrying handle and a large tank opening for easy filling. Complete emptying and cleaning is easy. The lightweight shut-off valve fits nicely in the operator's hand and the rugged spray wand makes it easier to reach a large spraying area. A wide selection of accessories and nozzle assortments broadens the spectrum of uses for Solo Portable Sprayers.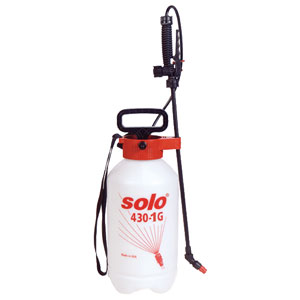 Solo 430-1G Portable Sprayer
$37.99

A75005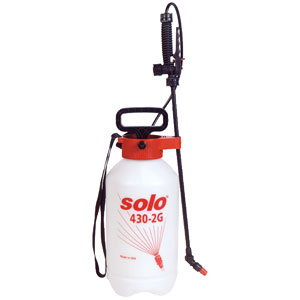 Solo 430-2G Portable Sprayer
$42.99

A75006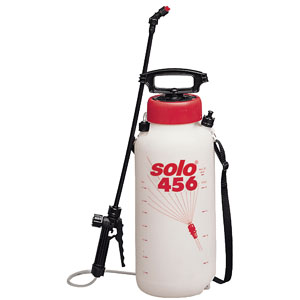 Solo 456 Portable Sprayer
$68.49

A36880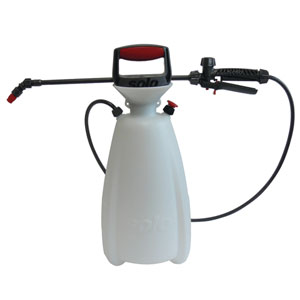 Solo 406-US Portable Sprayer
Out of Stock
Available for Backorder
ETA: No ETA
$33.99

A74906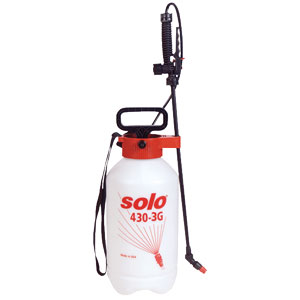 Solo 430-3G Portable Sprayer
$43.49

A75009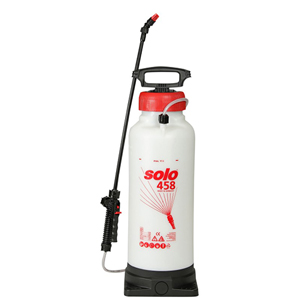 Solo 458V Portable Sprayer
$69.99

A36881
Solo Portable Sprayers are well known for their:
COMFORT - Both the 430 and 450 series sprayers feature easy carry, easy pump, 4' long hose, and 2' unbreakable wand, carry strap and carry handles for low effort spraying and general ease of use.

DURABILITY - All Solo Portable Sprayers are constructed of high density polyethylene and other chemical resistant materials. Most rugged are the Solo Sprayer 450 and 430 series which carry a 5 year warranty and with periodic maintenance will provide years of service.

FEATURES - Both the 430 and 450 series are supplied with an adjustable nozzle, flat spray, hollow cone and jet stream nozzles to meet typical spraying needs. A relief valve (430 & 450 series) for pressure limiting and release adds convenience.
Pump Sprayers



Sprayer Parts

Lawn and Garden Sprayers

Deck Sprayers

Backpack Sprayers

Chemical Sprayers

Commercial Sprayers

Spray Bottles




Pressure Washer Parts



Pressure Washer Nozzles

Pressure Washer Wand

Pressure Washer Hose

Karcher Pressure Washer Parts

Wagner Paint Sprayer Parts



Paint Sprayer Tips

Airless Paint Sprayer Hoses

Paint Sprayer Guns

Wagner Paint Sprayer Repair Kits

Solo



Solo Backpack Sprayers

Solo Hand Sprayers

Solo Portable Sprayers

Solo Sprayer Parts

Chapin



Chapin Backpack Sprayers

Chapin Hand Sprayers

Chapin Portable Sprayers

Chapin Sprayer Parts

Gilmour



Gilmour Hand Sprayers

Gilmour Sprayer Parts

Howard Berger



Howard Berger Portable Sprayers

Howard Berger Hand Sprayers

Landscapers Select



Landscapers Select Sprayers

Safety Equipment



Hose End Sprayers

Disposable Coveralls

Respirators

Safety Gloves

Safety Goggles


Our Mailing Address:
Sprayer Outlet
1035 Sylvatus Highway
Hillsville, VA 24343