Solo Backpack Sprayers
Solo Piston Backpack Sprayers are capable of producing up to 90 psi, which gives you the power to perfom virtually every spraying task. They easily and effectively handle disinfectants, fertilizers, herbicides, pesticides, and formulations for tree, shrub and plant protection. Solo Diaphragm Pump Backpack Sprayers are capable of producing up to 60 psi and are ideal for handling chemicals in wettable powder form, as well as liquid formulations.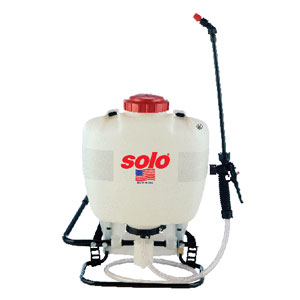 Solo 425 Backpack Sprayer
$121.99

A57724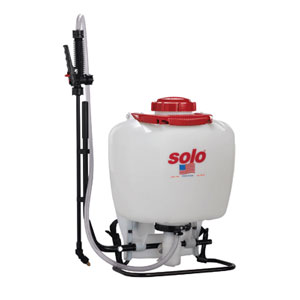 Solo 425DX Backpack Sprayer
$138.49

A36870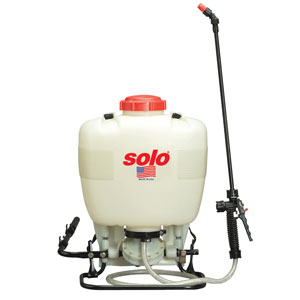 Solo 475 Backpack Sprayer
$96.99

A73482
Solo Backpack Sprayers are well known for their:
COMFORT
- Solo's unique shape and body fitting design balances weight between the shoulders and hips unlike competitors, where weight often presses on the small of the back. 48" hose, 28" wand assembly, easy pump, and easy trigger squeeze combine to make Solo Backpack Sprayers comfortable and easy to use.


DURABILITY
- Solo Backpack Sprayers are constructed of high density polyethylene and other chemical resistant materials. A 2 year warranty is provided. Given proper maintenance, the sprayer should last for millions of pumps and many years of use.


FEATURES
- Each Solo sprayer is equipped with an Adjustable, Flat Spray, Hollow Cone, and Jet Stream Nozzle to accommodate virtually every spraying need. Padded Straps with pull tabs make adjustments quick and easy. Built-in Strainers, Screens, and Filters help keep debris out of nozzles. Unbreakable wand prevents damage common to brass and brittle plastic wands. Viton seals, gaskets and O-rings provide excellent Chemical Resistance and durability.

Which Type of Solo Backpack Sprayer Should You Buy?
Piston Sprayers
are designed for chemicals mixed from concentrated liquids. Wettable powders may scar the cylinder wall, Viton Collar and piston causing leaks and loss of pressure. Solo Piston Sprayers pump up to 90 PSI and are relatively simple to maintain.


Diaphragm Sprayers
are suitable for use with both wettable powders and liquid chemicals. Solo Diaphragm Sprayers will pump up to 60 PSI. Diaphragm Sprayers can be harder to maintain than Piston Sprayers.
Pump Sprayers



Sprayer Parts

Lawn and Garden Sprayers

Deck Sprayers

Backpack Sprayers

Chemical Sprayers

Commercial Sprayers

Spray Bottles




Pressure Washer Parts



Pressure Washer Nozzles

Pressure Washer Wand

Pressure Washer Hose

Karcher Pressure Washer Parts

Wagner Paint Sprayer Parts



Paint Sprayer Tips

Airless Paint Sprayer Hoses

Paint Sprayer Guns

Wagner Paint Sprayer Repair Kits

Solo



Solo Backpack Sprayers

Solo Hand Sprayers

Solo Portable Sprayers

Solo Sprayer Parts

Chapin



Chapin Backpack Sprayers

Chapin Hand Sprayers

Chapin Portable Sprayers

Chapin Sprayer Parts

Gilmour



Gilmour Hand Sprayers

Gilmour Sprayer Parts

Howard Berger



Howard Berger Portable Sprayers

Howard Berger Hand Sprayers

Landscapers Select



Landscapers Select Sprayers

Safety Equipment



Hose End Sprayers

Disposable Coveralls

Respirators

Safety Gloves

Safety Goggles


Our Mailing Address:
Sprayer Outlet
1035 Sylvatus Highway
Hillsville, VA 24343